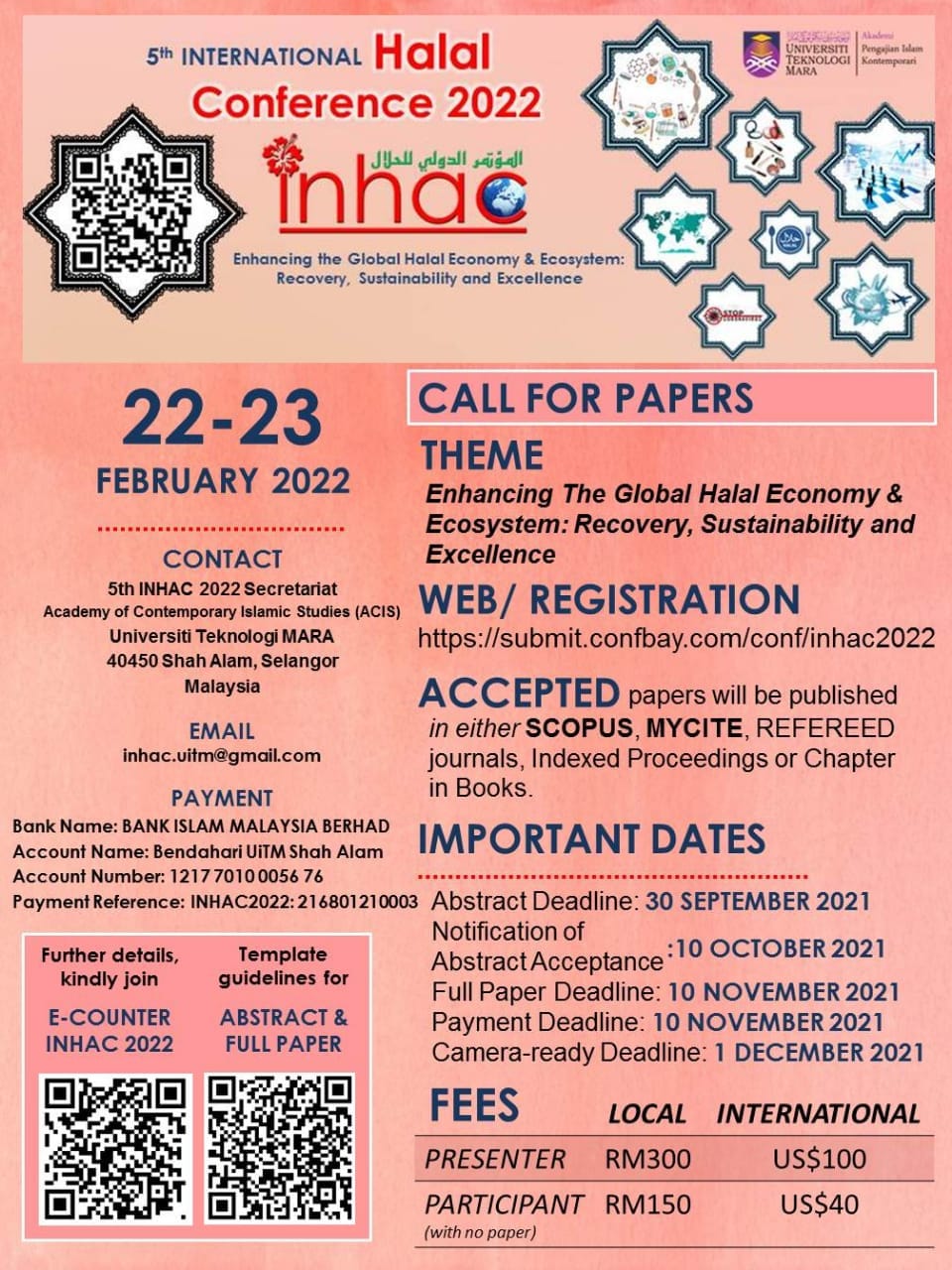 Theme:
"Enhancing The Global Halal Economy & Ecosystem: Recovery, Sustainability and Excellence"
1. RM300/US$100 (Presenter)
2. RM150/US$40 (Participant with no paper)
*Registration/Submission*:
Notification of Abstract Acceptance:
Camera-ready Paper Deadline:
Publications
# All accepted papers will be published in one (1) of the journals/publications below:
• Indexed Journal (Scopus, Mycite, etc); or
# Additional fees maybe requested for the publication according to the respective journals.
Payment Information:
No. Akaun: 12177010005676
Nama Bank: BANK ISLAM MALAYSIA BERHAD
Note: Please mention this statement in the Reference of payment:
WEBSITE, REGISTRATION, SUBMISSION & PAYMENT:
Sub-Themes
We welcome both conceptual and empirical papers that fall within, but not limited to the followings sub-themes:
6. Halal Quality Assurance
7. Halal Tourism and Hospitality
8. Halal Standards and Policies
9. Halal and Legal / Regulatory Framework
16. Ethical Issues in Halal Products
17. Halal Businesses & Halal Auditing
18. Halal and Curriculum Development
25. Halal Pharmaceuticals
26. Shariah Compliance and Shariah Governance Issues
CONTACT US:
5th INHAC 2022 Secretariat,
Academy of Contemporary Islamic Studies (ACIS)
Universiti Teknologi MARA (UiTM)
40450 Shah Alam, Selangor
Email:

This email address is being protected from spambots. You need JavaScript enabled to view it.